Despite the name this gooey, fudgey and supremely chocolatey slice of bliss is actually a cake rather than a pie, but as it's an original creation by Ree Drummond I'll give her a pass. This time.
Bartlesville Cream Pie is a layer of smooth salted caramel pudding sandwiched between two layers of rich chocolate cake and smothered in a decadent cream ganache.
If you have a chocoholic in your life, this will definitely get you in their good books!
Making your own caramel for the pudding might seem daunting but it just needs a little care and attention to make sure it doesn't burn. If you haven't had American-style pudding before you're in for a treat, especially if you're a salted caramel fan.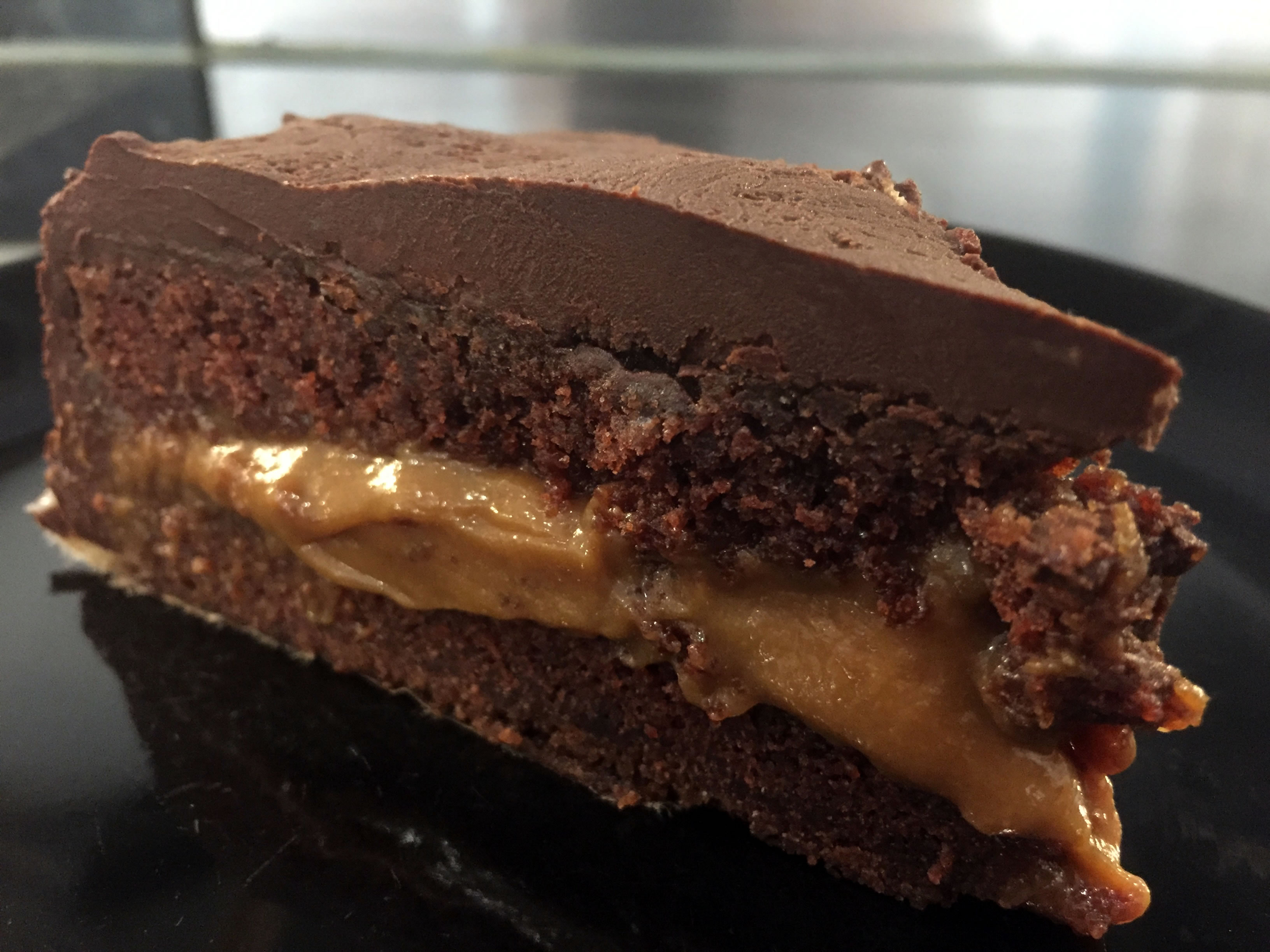 Ingredients
Cake

8tbsp (115g) salted butter, plus more for buttering the pan
1 cup (125g) plain flour
2 heaping tablespoons (15–20g) cocoa, plus more for dusting
1 cup (225g) sugar
1⁄4 tsp sea salt
1⁄2 cup (120ml) boiling water
1⁄4 cup (60ml) buttermilk (see notes)
1⁄2 tsp bicarbonate of soda
1⁄2 tsp vanilla extract
1 large egg, beaten
Pudding:

1 cup (225g) sugar
2 tbsp cornflour (aka cornstarch)
1⁄2 tsp sea salt
1 1⁄2 cups (350ml) whole milk
2 large egg yolks
2 tbsp (30g) salted butter
2 tsp vanilla extract
Glaze:

1 cup (230ml) double or whipping cream
225g dark chocolate
2 tsp vanilla extract
Instructions
Cake

Preheat the oven to 175c (150 fan).
Butter a 20cm cake pan, line it with greaseproof paper, then butter it again and dust it with cocoa powder (this avoids white patches on your dark cake)
Mix the flour, sugar and salt in a bowl.
Melt the butter on a medium heat, then stir in the cocoa until smooth.
Add the water, stir until mixed and then let boil for 30 seconds before removing from the heat,
Stir the flour mixture into the butter mixture a little at a time until smooth.
Mix the buttermilk, bicarb, vanilla and egg. Stir into the chocolate mixture.
Pour into the cake pan and bake until a skewer comes out clean, approximately 25–35 minutes depending on the oven.
Rest the cake in the pan for 10 minutes before removing it, then leave it to cool completely.
Pudding

Preferably in a light-coloured pan, melt half the sugar on a medium heat, stirring from time to time.
When the sugar is melted and a nice golden colour, remove from the heat — pay attention here as it will burn easily.
Whisk the cornstarch, salt and remaining sugar into 2⁄3 of the milk, then slowly mix into the hot sugar.
Put the pot back on a medium heat and stir continuously until smooth.
Whisk the egg yolks and remaining milk together, then stir into the pot.
Cook until the mixture thickens, stirring continuously to avoid lumps.
Remove from the heat and stir in the vanilla extract and butter.
Strain the mixture into a bowl, then press a piece of cling film onto the surface of the pudding — this avoids a skin forming as it cools.
Leave to cool for a while, then put in the fridge.
Putting it all together

Carefully cut the cake into two layers. This is best done a little at a time from every angle, eventually meeting in the middle. It doesn't matter if your lines are perfectly straight but you'll want the layers as even as possible.
Spread the pudding over the bottom layer of cake, then carefully put the other layer of cake on top.
Heat (but don't boil) the cream over a medium heat, then add the chocolate and stir until smooth before adding the vanilla.
When the ganache is ready, pour it as evenly as possible over the cake and spread so it drips down the sides and coats the whole pie.
Refrigerate until set, preferably overnight for best results but I know that's easier said than done 🙂
Notes
Buttermilk can be hard to find unless you have a big supermarket near you, but really what we want here is just some slightly acidic dairy to activate the bicarb, so a substitute will work fine — I used 3⁄4 tsp malt vinegar and made up to the 1⁄4 cup of milk.
https://monkeybakes.co.uk/bartlesville-cream-pie/